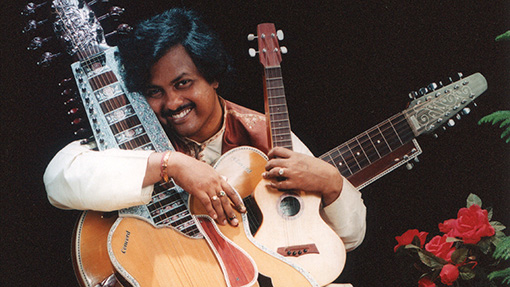 Concerts:
The 14th of April, 7 p.m. The State Small Theatre (Vilnius)
The 15th of April, 7 p.m. The musical theatre (Kaunas )
The 16th of April, 7 p.m. St. Kotrynos church (Vilnius)
Debashish Bhattacharya is one of the most fascinating personalities of the world music, whose creativity and a subtle sense of aesthetics makes him real genius. He works with the most famous Indian singers such as Ravi Shankar, Ajoy Chakrabarty, Beria Bhushan Kabra and the world's most famous maestros: Ustad Zakir Hussain, John McLaughlin, Bob Brozman and others.
This artist has received the Award of the President of India and won the national music competition organized by "All India Radio", he was also awarded the highest ranking Indian Information and Broadcasting Ministry Award, became a Grammy nominee and the winner of BBC world music awards.
Debashish is the revolutionist of Indian music, who invented a new guitar playing technique and created three unique guitars (called "Guitar Trinity") which perfectly retell the melody and spirituality of traditional Indian music. His concerts are real positive energy, peace and quiet oasis.