Concerts:
Festival playlist:
In May-August, we invite you to the most colorful music festival, which will feature as many as 12 bands from 5 continents. The festival is distinguished by a variety of music that transcends the boundaries of genres, so everyone will discover a sound close to their heart, and the abundance of unique performers will meet the expectations of even the now discerning listener.
---
SUBHIRA
(Chile)
From South American Indians to modern classics
May 27th 8 pm Kaunas 2022: Kaunas City Hall summer scene (free)
May 28th 8 pm "Ramybė", Palanga
Performers
Subhira, Rodrigo Cepeda - keyboards, didgeridoo, percussion
Juan Angel Muñoz - cello
Danka Villanueva - violin
Mother Morales - flute
Rebecca Martínez - drums, percussion
Subhira is one of the world's most innovative music ensembles in Chile, with intertwined rhythms and languages, progressive and contemporary world music, jazz and folklore. The energetic quintet will warm the hearts of both club goers and ethnic music lovers with their music.
Listening to this ensemble reveals 25 years of experience in researching ethnic music and its synthesis with world cultures, in their repertoire we will find both scores for symphony orchestra and soundtracks for films. The band's discography includes 19 albums, and its soul Rodrigo Cepeda has founded Mundovivo, the world's only music publishing company, in Chile.

---
ORKESTA MENDOZA
(Mexico / Arizona)
Border Music
May 31th 7 pm "TERASA LAUKAS", Kaunas
June 1st 7 pm PERONO PARKAS, Vilnius
Performers
Sergio Mendoza - keyboards, guitar, accordion, vocals
Paula Leon Cadahia - bass guitar, vocals
James Peters - drums
Raul Marques - trumpet, electric guitar, vocals
Quetzal Guerrero - vocals, percussion, violin
Orkesta Mendoza, which is in a good mood and is returning to Lithuania for the third time, will meet the listeners of Latin America, the heat of Mexico, the southern temperament and the surprises of Indian mambo. Their musical festivities are always full of vigor and southern energy and positivity, and the musicians are accompanied by a happy crowd raging to the last drop of sweat.
The cinematic Orchestra Mendoza creates frantic music with rich psychedelic and 60's rock tones mixed with traditional Latin styles, so that its stubbornness is compared to that of punk sex, and the intensity of the mambo legend Pérez.

---
TAMIKREST
(Mali)
Sahara Rockers
June 7th 7 pm LENTPJŪVĖ, Švenčionėliai
June 8th 7 pm "TERASA LAUKAS", Kaunas (heated by Afrodelic)
June 9th 7 pm LOFTAS, Vilnius (heated by Afrodelic)
June 10th 8 pm "Ramybė", Palanga
Performers
Ousmane Ag Mossa - vocals, acoustic and electric guitars
Cheick Ag Tiglia - electric, bass guitar, vocals
Cedric Momo Maurel - keyboards, percussion
Desert rockers in Tamikrest have just released their first album in 2010. He dived straight into the world's concert stages and music players. The name of the group of Sahrawi nomads in the Tuareg language means connection and it is a great name for the five, thus successfully combining timeless cultural values ​​with modern world sounds and visions.
Tamikrest arrives to release its rightly pulsating, intense rock and roll on its fifth studio album, Tamotaït. But sometimes music is more than playing notes or singing lyrics, sometimes it's a spirit that ignites - then the music flames up brightly and for a long time.

AFRODELIC
(Mali / Lithuania)
V. Diawara Joint Project
Afrodelic is a project of guitarist and producer Viktor Diawara - an intriguing combination of African music and electronic rhythms. The band's debut album, Dusunku Hakili (Memory of the Heart), is dedicated to the memory of Victor's father, the famous Mali writer and poet Gaoussou Diawara, whose work and sounds in Afrodelic's songs.
Most of the songs on the album were recorded in Bamako with local musicians and singers, and the recordings at the studio in Vilnius were reworked with electronic sounds and rhythms.
---
KUUNATIC
(Japan)
Esoteric psychedelia
June 28th 7 pm "TERASA LAUKAS", Kaunas (with shishi)
June 29th 7 pm "SODAS 2123", Vilnius
June 30th 8 pm OLDMAN Parkas, Palanga
Performers
Fumie Kikuchi - keyboards, vocals
Yuko Araki - drums, percussion, vocals
Shoko Yoshida - bass guitar
Kuunatic's musical concept is a fantasy! The trio of girls draw inspiration from the Moon, where they discover a completely different approach to drumming, the pulsating bass lines, and the atmospheric synthesizer sounds they combine with the consonances of traditional Japanese instruments. Last year, their debut album Gate of Klüna (Glitterbeat) reached the audience, which not only explores and dives into experiments, but also remembers their singing and melodies.
Kuunatic. the music played can be described as tribal - psychedelic: between the sharp, sometimes chaotic drums and punk elements, a light, birdy Kaguri flute evokes the spirits of the ancestors, and the girls' vocals escort them to the ritual space and fly them into a fantasy world.

---
shishi (with Kuunatic)
(Lithuania)
Neat musical shell
June 28th 7pm. TERASA LAUKAS , Kaunas
Some are mermaids, others are witches on guitars. The only thing that is clear is that you can't do without magic here. "Shishi" - a Lithuanian trio of girls singing about what they think about every day - has little meaning left to live. But I still care where the world goes. The band for musicians is also a manifestation of creative pursuits.
Girls who have a hard time falling within the framework of a particular genre say that they play music that they themselves enjoy listening to. Armed with guitars and named after their favorite Italian names, Benadetta, Victoria and Maria Rosa maneuver between punk / rap / soul / trash lo-fi. And the result is great. The albums NA x 80 (2018), MAFITISHEI (2020), EP Vilnius Count (2021) will be warm in Shishi's pockets.
---
OPSA DEHËLI
(France)
Latino-Balkan cocktail
July 12th 7 pm. "TERASA LAUKAS", Kaunas
July 13th 7 pm. "Vasaros terasa", Vilnius
July 15th 7 pm. "Lentpjūvė", Partisan st. 5A, Švenčionėliai.
Performers
Corentin - drums
Damien - Congolese, Bonga
Max - vocals, timbals
Kilian - bass guitar
Lucas - Acoustic Guitar
lement - trumpet
Chloé - steel drum
Gaël - accordion
Louis - violin
Jerome - clarinet
Adrien - Saxophone (viola)
Felix - saxophone (baritone)
The sounds of Roma hymns and wild cumbria turn every Opsa Dehëli concert into an epic breeze! The ensemble is based in Bordeaux, and the geography of their musical journey spans Latin America and the Balkans.
A large group of musicians allows you to juggle sounds and styles: mambo, cumbia, and colorful music to add to the never-ending celebration - so get ready, because this nomadic orchestra is always ready to give maximum to its audience and does not recognize boundaries.

---
AG DAN GWANG CHIL - ADG7
(South Korea)
Will remember for a long time
July 25th 7 pm. LOFTAS, Vilnius
July 26th 7 pm. "TERASA LAUKAS", Kaunas
Performers
Kim Yak Dae - Daeguem
Lee Man Wol - Piri & amp; >Saenghwang
Grace Park - Ajaeng
Woen Meon Dong Maru - Gayaguem
Chun Gung Dal - Percussion
Sunwoo Barabarabarabam - Percussion
Hong Ok - Vocals
Myeong Wol - Vocals
Yoo Wol - Vocals
Standing with one foot in the world of tradition and the other in playful pop music, Ag Dan Gwang Chil (ADG7) is an award-winning band. >Through its indifferent virtuosity, charisma and pure energy, it revives the already forgotten legacy of North Korean folk music and expresses its desire for unity in its music.
The ensemble, which varies between mysticism and extraordinary fun, belongs to the shamanic funk, folk-pop genre.
Nine performers on stage, traditional musical instruments, three strong-voiced folklore singers and a rich repertoire inspired by Korean traditions engage and immerse them, and they convey the energy of traditional music in a modern and often comical style.

---
SAMBA TOURÉ
(Mali)
Desert blues
August 2nd 7 pm. VU Botanical Garden Vingis Park, Vilnius
August 3rd 7pm. Sacramento Church yard, Kaunas
Performers
Samba Touré: guitar, vocals
Djimé Sissoko: ngoni, tamani, vocals
Souleymane Kane: Calabash, vocals
Mamadou Sidibé: bass guitar
Samba Touré, returning to Lithuania for the second time, is one of the best contemporary African guitarists and vocalists.The blues of the Niger River, traditional Songai themes and the winds of Western culture are harmoniously combined in the artist's work. Energetic and at the same time meditative music continues the legacy of Ali Farka Touré's blues and is widely appreciated both at home and abroad.
Samba Touré 2018 during his visit to Lithuania, he presented the album Wande, filled with great warmth and sounding like a home. This year, this guitarist, vocalist and composer will present his latest album, Binga (2021), his most personal and engaging work in his native language.

---
AL-QASAR
(Algeria / Morocco / France)
Middle Eastern psychedelics
August 16th 7 pm St. Sacramento Church yard, Kaunas
August 17th 7 pm VU Botanical Garden Vingis Park, Vilnius
Al-Qasar brings old psychedelic rock to life, integrating traditional Arabic musical instruments, harmonies and rhythms to pay tribute to the psychedelic pop of the 60's and 70's that inspired the Middle East. >The musicians themselves describe their style as an Arabic fuzz - a sound that combines the sounds of Turkish sazo, fuzz guitars, Arabic line, darbuka, vintage amps and classical drums.
The Arabic lyrics are socially conscious and sharp, yet poetic, but at the same time touch on topics that are often taboo in Middle Eastern music - all combined with the refreshing and passionate energy of music.

---
KAROLINA CICHA
(Poland)
Map of Karaite music
August 15th 7 pm Sacramento Church yard, Kaunas
August 18th 7 pm VU Botanical Garden Vingis Park, Vilnius
Performers
Karolina Cicha - vocals, accordion, keyboards
Mateusz Szemraj - longlines, saunas, cymbals
Karolina Matuszkiewicz - kamancheh, violin
Patycja Betley - percussion
Karolina Cicha and Co. The Karaim Music Map, a music project initiated in 2006, reveals the secrets of music and history in a community called the smallest ethnic group (just 1,600 members across Europe!). >Carolina specializes in the search for the musical treasures of national minorities, so it conveys the old spirit of songs, and the ensemble playing together gives a modern spice to the tradition of Karaite oriental music.
Karaim Music Map is the world's first album dedicated to the scattered traditional music of this nation - we will follow in the footsteps of Karaite travels around Vilnius and Trakai, Warsaw, Kiev and Crimea, and although the songs in the concert come from the harmony of traditional music collections, and works of modern musical language.

---
DAKHABRAKHA
(Ukraine)
in Ethnochaos
August 24th 7 pm "Vasaros terasa",, Vilnius
Performers
Olena Tsybulska - vocals, drums, percussion, harmonica
Iryna Kovalenko - vocals, jam, drums, accordion, percussion, keyboards, birbynė, bagpipe
Nina Garenetska - vocals, cello, drums
Marko Halanevych - vocals, work, tabla, didgerid, accordion, trombone
DakhaBrakha is a breathtaking Eastern European folklore, a fusion of urban avant-garde and Ukrainian folk art. >In Ukraine itself, they are a cult phenomenon, and the world has performed more than five hundred concerts and performances, participated in many festivals.
DakhaBrakha attracts fans with its aggressive sound, encompassing many ritual rhythms, and stunning, cacophonous vocals. The quartet's music is captivating and mystical, bringing together spiritual Ukrainian folk music, jazz and trance, punk, hip hop, avant-garde, Balkan music and the sounds of traditional instruments from around the world.
Concert venues:
* If seats are marked at the concert venue, reserved seats will be marked for those who have purchased a subscription.
LOFTAS
Address: Švitrigailos str. 29, Vilnius
LITHUANIAN NATIONAL PHILHARMONIC
Address: Aušros Vartų str. 5, Vilnius
KAUNAS STATE PHILHARMONIC
Address: E. Ožeškienės str. 12, Kaunas
VU BOTANICAL GARDEN BENDING DEPARTMENT
Address: MK Čiurlionio str. 110, Vilnius
O KODĖL NE?
Address: Juozapavičiaus g. 122 A, Kaunas.
PERONO PARKAS
Located next to Vilnius railway station, PARK offers a beautiful view of trains and rails.
Address: Geležinkelio str. 6, Vilnius
RAMYBĖ
Address: Vytauto str. 35, Palanga
St. THE COURTYARD OF THE SACRAMENT CHURCH
Address: Vilniaus str. 31, Kaunas
TERASA LAUKAS
Near Mykolas Žilinskas Art Gallery.
Address: Nepriklausomybės a. 12, Kaunas
LENTPJŪVĖ
The former sawmill area next to the train tracks is now being converted into creative community spaces.
Address: Partisan str. 5A, Švenčionėliai
https://goo.gl/maps/zPiPdxuYFJjR3KtK6
VASAROS TERASA
Vilniaus str. 39, Vilnius
CINEMA THEATER DAINA
The legendary cinema in the Žaliakalnis district showed films to people from 1936 to 1990. Now the place is reborn and returns as a multifunctional cultural space for cinema, theater, music and art.
Address: Savanorių pr. 74, Kaunas
OLDMAN PARK
Address: Jūratės str. 2a, Palanga
SODAS 2123
Address: Vitebsko str. 23, Vilnius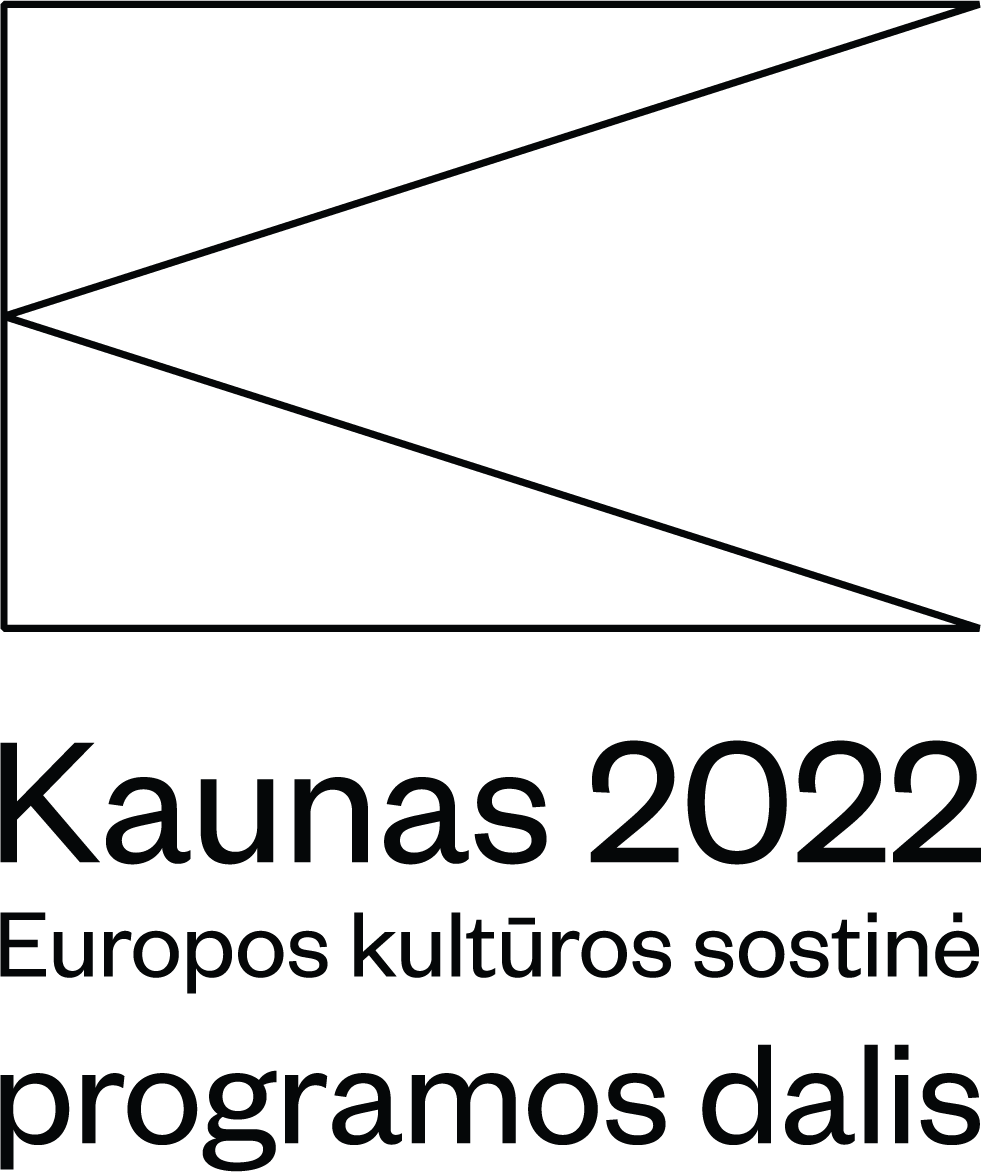 Concerts in Kaunas are part of the "Kaunas - European Capital of Culture 2022" program.
Concerts in Vilnius are partly funded by Vilnius City Municipality.