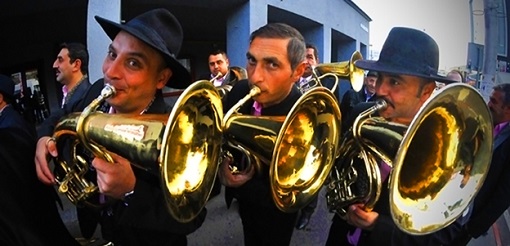 Concerts:
November 11, 7pm. club "New York", Vilnius
November 15, 5pm. club "Cristal", Kaunas
• Galan Nicolae: flugelhorn
• Galan Mihai-Rusalin: trumpet
• Stoica Nicolae: trumpet
• Galan Constantin: clarinet
• Dinga Roland: saxophone
• Roman Cristinel: baritone euphonium
• Lupu Cornel: percussion, vocal
• Stoica Vasile: tube
An orchestra "Fanfare de Transylvanie" has a very wide repertoire, which consists of all the Romanian folklore and extremely well-known original Balkan music themes interpretations, relied on such famous creators like Goran Bregovic, Boban Markovic, Gogol Bordello and the Gypsy King. Colorful music of "Fanfare de Transylvanie" is described as the world music, gypsy or Balkan brass style.
"Fanfare de Transylvanie" sequences old Transylvanian-Saxons and Moldovan musical traditions based on gypsy roots. Their music successfully combines contemporary music with hore Moldovan (Romanian folk dance) and doine (Romanian music reminiscent of klezmer style) traditions.
"Fanfare de Transylvanie" orchestra has already conquered the "Sziget Festival" (Hungary), "Roma Fest" (Slovakia), "Festival de Gannat" (France), "Athenes New Year's Eve Show 2007" (Greece), "Trutnov Open Air" (Czech Republic), "World Music Festival – Gorizia" (Italy), "Rudolstadt Tanz Folk Fest" (Germany), "Economic Forum" (Poland), "Summer Cinema Academy" (Poland), "Vine Festival" (Poland), "Etnoport Poznań Festival" (Poland) and other festivals hearts.