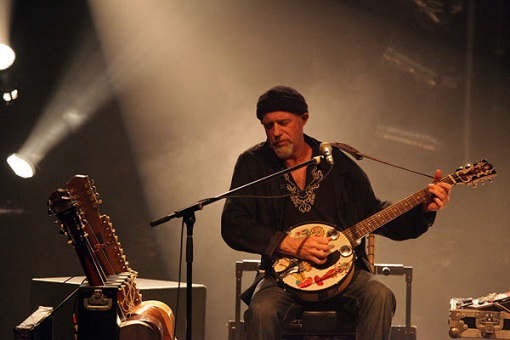 Concerts:
• 28th March 7p.m. Russian Drama Theatre, Vilnius
• 29th March 7p.m. National Kaunas Drama Theatre, Kaunas
Harry Manx is a musician who blends blues, folk music, and Hindustani classical music.
Manx plays the slide guitar, harmonica, six-string banjo, mohan veena and Ellis stomp box. He studied for five years in India with Vishwa Mohan Bhatt. He has released eleven albums.
Manx was a nominee in the 8th Annual Independent Music Awards for his cover of "I'm on Fire"
Manx's musical style has been called an "essential musical link" between the East and the West. His songs are "short stories that use the essence of the blues and the depth of Indian ragas to draw you in". Manx is a prolific artist, releasing 12 albums in a 12 year span with no signs of stopping. He has received seven Maple Blues Awards, six Juno nominations, the Canadian Folk Music Award in 2005 for Best Solo Artist and won CBC Radio's "Great Canadian Blues Award" in 2007.