Concerts:
November 12th 7pm Keistuoliai Theatre, Vilnius
November 13th 7pm. VDU Great Hall, Kaunas
For the first time two bands from diffrent sides of the world meet on "GM Gyvai" stage – "Etran Finatawa" from Niger and "Huun-Huur-Tu" from Tuva Republic. A combination of these two bands is unexpected and extraordinary. This combination merges music of two nomad tribes from western Africa (tuaregs and wodaabe) in the hot Sahara desert and a music of tempered nomad tribes from Tuva steppe. These two bands are both original and distinctive and a creative work that is produced from these two bands is going to be a treat for gourmands of music.
"Etran Finatawa" was founded in 2004. They are the first ones to use nomad – tuaregs and wodaabe - songs from western Africa in a modern context. A creative work of this group is called a desert nomad blues. This is because of a ripping richness, an african heat and freedom that is being felt in their music. The name of the group could be translated as "tradition star". This is not just a name because "Etran Finatawa" reveals a great cultural heritage of the Niger tribes and makes notable importance of its preservation.
At the moment band is formed out of five members. Two of members are tuaregs and three are from wodaabe-fulani tribe. Music of "Etran Finatawa" is a celebration of life and at the same time is a deep sorrow about vanishing traditions of Niger. Music of "Etran Finatawa" is becoming a cult and their songs are being sung in schools.
"Etran Finatawa" has released five albums so far. The newest album "Sahara Sessions" was recorded at the depth of a desert under a tent made of animal skins and the starry sky. In 2006 this group performed at "WOMAD" festival. After that they got many offers and opportunities to perform all over the world – so far they performed in five continents and many countries. In 2007 their debute album "Introducing Etran Finatawa" was nominated in BBC radio world music awards.
"Huun-Huur-Tu" was founded in 1992. This band is formed out of four members from Tuva Republic. They performe a nomad tribe folk music of south Siberia. They are one of main bands in the world which are making traditional guttural singing (xöömei) popular around the world for several decades. This kind of singing is special because of a posibility to sing several sounds at the time. This maner of singing comes from a central Asia nomad tribes. And sometimes it can sound like a fluet, a birds song or a whistle.
"Huun-Huur-Tu" stands out because of traditional instruments of Tuva and Mongolian tribes: a two string igil, a jew's - harp khomus, a lute doshpuluur, a shaman drum dünggür. They also are keen on experimenting in their music. They incorporate western instruments, electronic music and colaboration with contemporary composers in the traditional music they are producing.
"Huun-Huur-Tu" has released over ten solo albums and twice as many remixes and many joint works with many artists and bands. This band has colaborated with Frank Zappa, Johnny "Guitar" Watson, "Kodo Drummers", "Moscow Art Trio", "Kronos Quartet", "Hazmat Modine", "The Chieftains", "The Bulgarian Voices – Angelite" and many others. Bands album "Eternal" was recorded in colaboration with alternative electronic musics producer and musician Carmen Rizzo. Remix of a song "Eki Attar" from the album was named the best hit in Greece in 2002 summer.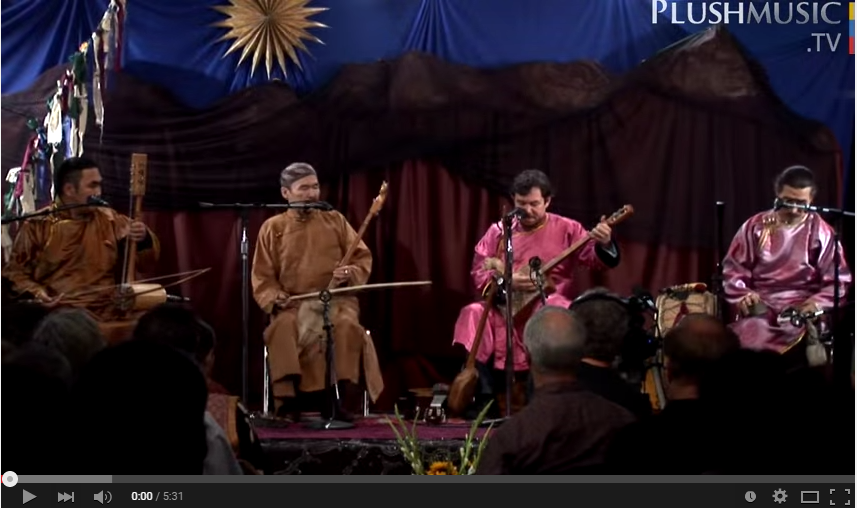 Name of the band "Huun-Huur-Tu" means sunbeam that only can be seen before sunset or sunrise. They are always inspiring and exlusive like music they are creating. Their music reflects on a natures world, a steppers nomad lifes and a culture where buddhism and shaman religion are incorporated.
When music of "Etran Finatawa" and "Huun-Huur-Tu" is being listend it creates powerful, hypnotising sound, fascinates with its depth and mistery. That is the reason why these two bands are going to deliver incredible performance. It is three different cultures united by expierence of nomad, love for nature and traditions. These bands are ambassadors of their culture. This performance is a must see because nomads lifestyle is disappearing fast and traditions are being grown over by innovations.
TICKETS