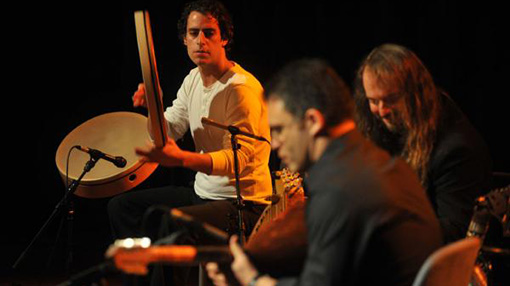 Concerts:
The 26th of March 7 p.m. St. Catherine church (Vilnius)
The 27th of March 6 p.m. St. Jurgio Kankinio church (Kaunas)
Lopez-Petrakis-Chemirani is a warm trio from sunny Crete, pulsating life and archaic design. Extraordinary creators are looking for original and modern ways to present the traditions of music. A representative of Cretan music scene Selios Petrakis has released three solo albums and his 2009 CD "Orion" was in the British magazine "Songlines" Top-10 and in Indianapolis (USA) he gained the "Just Plain Folks" award. Efren Lopez is a multi-instrumentalist from Valencia who plays many different instruments, works with lots of groups dedicated to old European music and has already participated in the recording of more than 60 CDs. Moreover, percussionist Bijan Chemirani continues the traditions of the national Persian instrument called Zarb (or Pinchbeck).
This music transcends different cultures and time periods. In the trio program of Lopez-Petrakis-Chemirani there are lots of original rhythmic compositions, which refer to different regions: Crete and other Greek islands, Turkey, Iran, medieval European traditions, there also can be heard Armenia, Azerbaijan, Afghanistan, Spain, French musical influences. The trio has a special spirit, created by different representatives of musical disciplines with huge experience and knowledge of the secrets of traditional music.