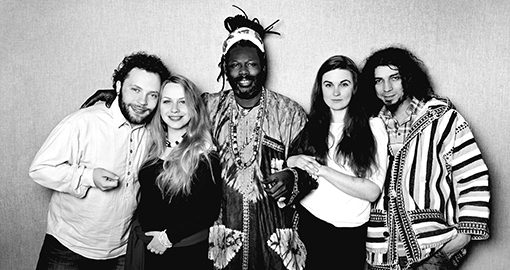 Concert:
8 of November 8pm at LOFTAS
Line-up:
Baba Sissoko (ML): big and small ngoni, tamani, guitar, vocal
Laurita Peleniute (LT): vocal, ocarina, water, percussion
Saulius Petreikis (LT):armenian duduk, didgeridoo, futujara, duduk, bansuri flute, shofar, fujara, horn, trumpet, Samogitian Baltic psaltery, vocal
Indre Jurgeleviciute (LT): vocal, Baltic psaltery
Viktoras Diawara (ML, LT): guitar, vocal
"MaLituanie" the first-of-its-kind world music album recorded and released in Lithuania. The album easily and inseparably fuses the harmonies of traditional Malian and Lithuanian music, tells stories of wanderings and homesickness; of new experience in exotic lands, and the duty to preserve our cultural memory.
"MaLituanie" was recorded by the prominent Malian world music performer Baba Sissoko together with the professionals of Lithuanian world music scene: multi-instrumentalist Saulius Petreikis, folk singer Laurita Peleniute, vocalist and Baltic psaltery player Indre Jurgeleviciute, and a famous Lithuanian [rock] musician Victor Diawara originally from Mali.
"MaLituanie" was recorded live in the studio in only four days and each composition was performed only once. Thirty songs were recorded; thirteen of them were included into this album.
An attentive listening to each other has freed up the most unexpected musical correspondences and opened deep universal meanings. Without knowledge of it, the performers were singing about the same things: a man and a woman, the care of the Mother Earth, the eternal human life cycle.