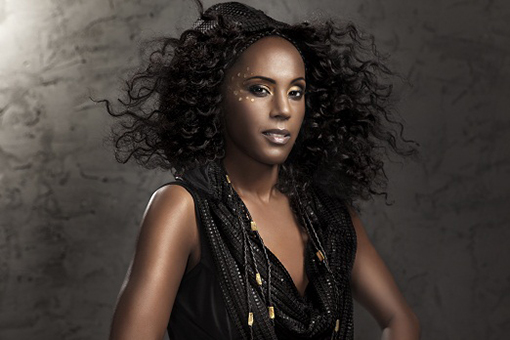 Minyeshu – vocal
Maarten Helsloot – keyboard
Bas Bouma – drums
Wouter Schueler – saxophone
Tamara Nivillac – back vocal
Concerts:
• The 26th of November. Žalgiris arena amphitheatre, Kaunas
• The 27th of November. Russian Drama Theatre, Vilnius
The singer is particularly favored by the audience for her colorful, contemporary Ethiopian tradition and Western musical elements creativity. West African, classical, European folk, blues, jazz and Caribbean music in creation of Minyeshu is brought together by the unique Ethiopian tradition.
Minyeshu retains the main Ethiopian musical traditions, fundamental vocal mannerisms and style. In her songs, which are performed in Ethiopia, there is mainly used Amharic language. Minyeshu uses light rock and modern pop elements, so that Ethiopian music is exquisitely and elegantly adapted to western understanding.
Minyeshu has contributed to the country's greatest music and dance project "People to People", toured with it around the world and visited more than 35 countries. In her homeland Minyeshu performed on the stage with many well-known country music icons such as Mulatu Astatkeand, Mahmoud Ahmed, Tilahun Gessesse, Bizunesh Bekele and many others. She played with the musicians band from the Horn of Africa called "Africa Unite" and performed with her own group "Chewata". Minyeshu has released three solo albums: "Meba" (2002), "Dire Diwa" (2008.) and "Black Ink" (2013.), which has been described as Ethiopian funk style.

Minyeshu has appeared in various festivals, such as "Mundial" in the Netherlands, "Bursa" in Turkey, "Moving Cultures" in Austria, "Jazz Festival" in Switzerland, "Africa Festival Würzburg" in Germany, "Barcelona Acción Musical" in Spain, "Festival Radio France Montpellier" in France, and many other events. Minyeshu shared the stage with African music ambassadors Angelique Kidjo, Baaba Maal, Youssou N'Dour and Salif Keita.
Minyeshu has worked with a number of Dutch, Belgian, German artists and orchestras, also in German-Ethiopian music project "Sounds of Sheba" (2001). She has contributed to the creation of "Zuco 103" album "Whaa" (2005) as well as to some Onno Krijn musical projects: "Do not be a stranger / ONE" (2006) and "Water" (2008). She was a choreographer of Brigitta Hauer dance performance "Nesjomme" (2003 and 2008) and participated in Leoni Jansen theater tour "Made in Holland" (2003.), "She got Game" (2010) and Marco Borsato concert "War Child" in Rotterdam (2004).