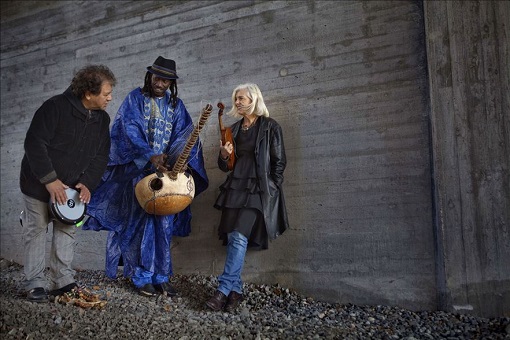 Concerts:
20th February 7p.m. Russian Drama Theatre, Vilnius
21th February 7 p.m. National Kaunas Drama Theatre, Kaunas
Eillika Frisell from Sweden plays the violin and viola, conveys her native country's musical traditions with rich Bingsjö and Orsa musical heritage, polska genre (the music and dance form prevalent in the northern countries). Ellika has played with Swedish folk ensembles "Filarfolket", "Den Fule" and "Rosenbergs Sjuanarė". She also plays in the Iranian group "Padik" and is involved in projects with Sven Ahlbäck and Mats Ede'n.

Solo Cissokho from Senegal is a griot, that means a storyteller, poet and itinerant folk musician, who continues very old African traditions. Solo plays West African kora, it is a stringed instrument similar to a harp, and he is also a vocalist in the trio. Solo has toured with the folk musicians from Norway, Sweden, Iran, China and other countries and also performed with Indian violinist Subramaniam, famous African artists such as Tore Kunda, Youssou N'Dour, Ali Farka Touré and others.

Rafael Sida from Mexico is a legendary drummer and percussionist, well-known in Swedish jazz and world music scenes. Rafael is a member of many African, flamenco, salsa and other genres of music groups such as "Stockholm Jazz Orch", "Ale Möller Band", "Jonas Knutsson Quartet", "Hot Salsa", "Makonde", "Ahmadu Jarr's Highlife orchestra". In the trio he sings and plays cajon, bongos, djembe and other percussion instruments.
In 2003 there was released the first Ellika and Solo album "Tretakt/Takissaba" which was awarded with the prestigious BBC World Music Award. In 2006 the album "Abaraka/Tack" appeared and won best folk album nomination in the Swedish "Grammy" awards. Brand-new live album called "Now" was recorded this year in Sweden in October and will be presented in Lithuania.