Concerts:
25 September 7pm. Russian Drama Theatre, Vilnius
26 September 7pm. VDU Great Hall, Kaunas
Sona Jobarteh - kora, acoustic guitar, vocal
Mouhamadou Lamine Sarr - percussion
Westley Joseph - calabash
Derek Johnson - acoustic Guitar
Andrew Mclean - bass
Sona Jobarteh is the first female Kora virtuoso to come from a west African Griot family. Breaking away from tradition, she is a modern day pioneer in an ancient, male-dominated hereditary tradition that has been exclusively handed down from father to son for the past seven centuries.
The Kora is a 21 stringed African harp, and is one of the most important instruments belonging to the Manding peoples of West Africa. It can be found in Gambia, Senegal, Mali, Guinea and Guinea-Bissau. The kora, along with a handful of other instruments, belongs exclusively to the griot families of west Africa. Only those who are born into one of these families have the exclusive right to take up these instruments professionally. Sona, who was born into one of the five principal West African Griot families, has become the first in her long family line to break from tradition by taking up this instrument professionally as a female.
Her family carries a heavy reputation for renowned Kora masters, one being her Grandfather, ABJ who was a Master Griot and remains a leading icon in Gambia's cultural and musical history. Her cousin Toumani Diabaté is also known worldwide for his mastery of the Kora. Taught to play the kora at the age of four by her elder brother Tunde Jegede, Sona started her musical journey at a very young age.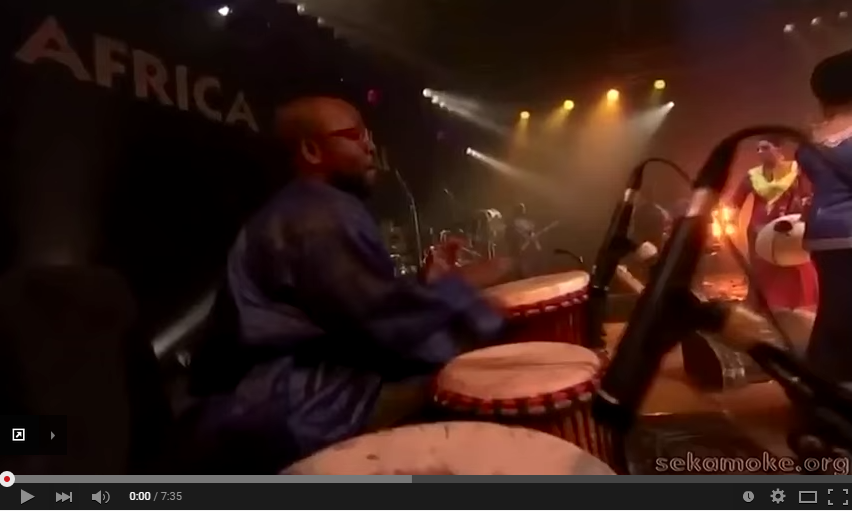 The years spent working as a musician in the UK training in Classical institutions such as the Royal College of Music and Purcell School of music, as well as being a permanent member of her brother's internationally acclaimed ACM Ensemble allowed Sona to become immersed in a world of musical diversity many could only dream of. Sona was able to work alongside internationally acclaimed artists such as Oumou Sangare, Toumani Diabate, Kasse Mady Diabate and The BBC Symphony Orchestra. These many influences have come together to form one of most exciting new talents from the West African Griot tradition to hit the stage in recent years.
Sona has an effortless ability to blend different musical styles, not just between the West and Africa, but also between West African musical genres. She uses her innovative stance to talk about issues to do with cultural identity, gender, love and respect whilst still referencing and rooting herself firmly in her traditional cultural heritage. Sona represents her tradition in a way that is easily accessible to her audiences from around the world, who are drawn in by her captivating voice, strong rhythms and catchy melodies.
One of Sona's most captivating qualities is her voice. Although only taking up her ability to sing very recently, she has since fast been gaining a reputation for her voice alone. Most recently Sona's voice has landed her the big role of vocalist in the forthcoming Hollywood blockbuster movie "Mandela: Long Walk to Freedom" to be released in the United Kingdom in January 2014.
Over the past four years Sona has been carefully piecing together her band. Forming a UK-based band that is both sympathetic and sensitive to the subtle idioms of the Kora repertoire has not been an easy task, but Sona has now put together a group of inspiring musicians from different parts of Africa who manage to render her music beautifully onstage, whilst still embodying each of their own diverse musical identities. Whether the full band or a smaller acoustic ensemble, this group of musicians never fail to bring a rich, revitalising energy to the stage.
Her latest album, released in 2011 entitled "Fasiya" is a landmark not only in her musical journey, but in the continuously evolving tradition that she is a product of. Into this album Sona has poured not only her abilities as a multi-instrumentalist and composer, but also her competence as a keen producer. Working in both Gambia and the UK Sona pieced together the many elements she needed to produce a work of art that would reflect her unique position in this tradition as a both a preserver and innovator
Early in 2014 Sona established the Gambia's first Manding Music school which is dedicated to the exclusive study of traditional music from the manding regions of west Africa. The school has fast been gaining recognition and support from the international community, and Sona is continuing to build and expand the school
Tickets