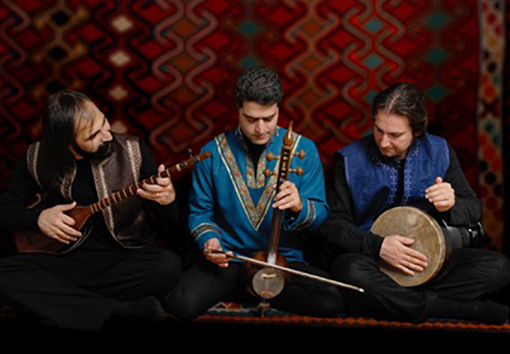 Concerts:
The 12th of November, 7 p.m. Russian Drama Theatre, Vilnius
The 13th of November, 7 p.m. Žalgiris arena amphitheatre, Kaunas
Trio "Win-Bang" is from Iran; their music involves mystical Persian, Sufi traditions. The trio consists of professional, artfully musicians playing with traditional Persian musical instruments: Samer Habibi (playing kamancheh), Pasha Karami (tombak, percussion) and composer Masoud Arzanlou (tambour, vocal).Musical compositions are based on traditional Arabic musical systems maqam and ancient Persian figure of melodies called radif.
One the trio member Masoud Arzanlou plays tambour, he has learned Sufi and traditional music from the famous Persian artists such as Ustad Seyed Khalil Alinejad. Masoud is not only an extremely talented and professional tambour musician, but also a high level of tar and setar performer. His solo album "Serenity the Empyrean" was dubbed as tambour music revolution.
Another member of trio Pasha Karami is a great student of tombak master Navid Afghah. He played together with many famous musicians in the world such as Hossam Ramzy, Ustad Dolatmand Kholf, Arto Tunchbayachian. He toured with the Iranian celebrities Hamid Motebassem and Salar Aghili and is involved in the activities of ensembles "Mezrab Ensemble", "Synergy World Rhythm" and "Beduin".
The third member of the trio is Samer Habibi, he is a student of well known kamanche professional Kamran Daaroghe. Samer is considered to be one of the best Iranian kamanche performers and famous for the production of these instruments. He has organized performances together with some legendary Iranian musicians such as Ustad Shahram Nazer, Ustad Mohammad Reza Darvish and Homayoon Shajarian.
Trio "Win-Bang" has released the album in 2009, called "Ayeneh dar Ayeneh", they used Rumi and Hafez poems in the compositions and the uniqueness for the sound is given by using tambour matching range for the first time in music history. "Win-Bang" has organized three successful musical tours in Europe in 2009, 2011 and 2012. What is more, this Persian - Sufi Music trio collaborates with legendary singer Ostad Dolatmand Kholf from Tajikistan.