CONCERTS
February 6th 7 pm at St. Catherin's church, Vilnius
February 7th 6 pm at National drama theatre of Kaunas, Kaunas
ARTISTS
Vardan Hovanissian - duduk
Emre Gültekin - sazu, baglama, tambour, vocal
Vardan Hovanissian is master of an instrument called duduk and Emre Gültekin is master of a sazo instrument. They are going to introduce their first album together called "Adana". This album is dedicated to commemorate the sixth anniversary of Armenian nation's genocide. Their music is exotic, natural as breathing, it lifts the listener and represents hopes triumph against hatred and history. The music of this duo is subtitle sound of two friends and two countries creating the sound of becoming reconciled.
Vardan Hovanissian and Emre Gültekin met each other more than ten years ago. They are like soul brothers since then. The friendship that they have is perpetuated in their first album "Adana". This album was recorded in 2015. This album is not just a reference to a city in Turkey that hundred years ago stroke hard to Armenians during their genocide. But it is also a symbol of hope to creative people because Adana is the one place where Turks and Armenians live in harmony.
The light side of the history is represented by harmonious song texts of Armenians and Turks, a melancholic sound and timbre of duduk and a virtuoso use of sounds of a sazo and tambour. The album "Adana" explores sharp pain that is still being felt in those two nations. But it is done very subtile and the pain is exalted. The pain is respected and replaced by understanding and celebration of a common celebration.
During the album release tour Vardan Hovanissian and Emre Gültekin are going to be in France, Portugal, Hungary, Romania and also in Lithuania.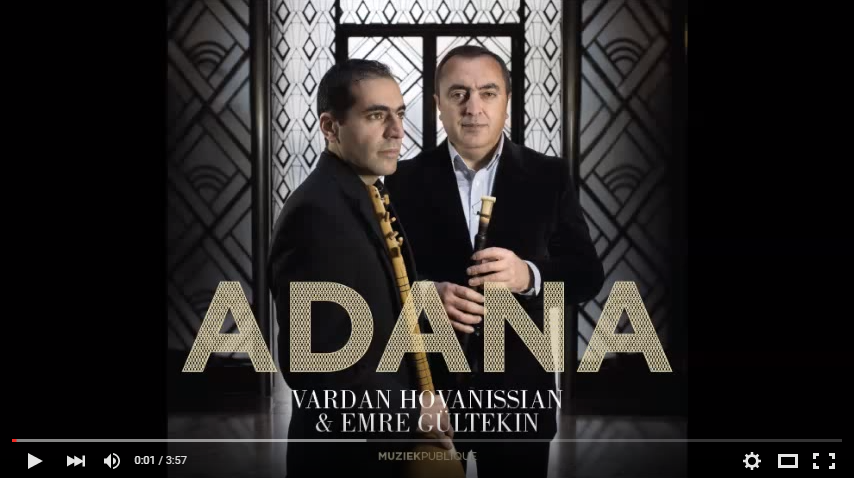 Vardan Hovanissian (Armenia) – is widely known professional the wind instruments of Armenian nation player. This talented player is crowned as ambassador of duduk music. He did learn all secrets of playing duduk from Khachik Khachatryan. His music embodies the spirit of Armenian music.
Duduk is one of the oldest wooden wind instruments with double latches. This instrument is known since year 600 B.C. The sound of this instrument represents the spirit of Armenian nation. The timbre of this instrument is warm, contemplative and sad. All these qualities affects listeners soul and also because of these qualities this instrument is more and more appreciable all around the world.
Vardan Hovanissian is true to the traditional Armenian music but also he connects with Turkish, Syria music and with jazz and folk music of other nations of Europe. He had concerts with National folk music ensemble of Armenia, groups from his country like "Gandzasar", "Marathouk & Ervand Saharouny". The concerts all over the world began only from musical encounters with Tigran and Yasmin Levy. They had concerts in Europe, Canada, Australia, in Asia with Yasmin Levy, "Arax", "Hijaz", "Blindnote".
Vardan Hovanissian contributed to many musical projects. He worked with "Arax" on his album "La Brise" (2004), Yasmin Levy "Mano Suave" (2007), "Gültekinler" record "Türküce" (2008), Hijaz "Dunes" (2008), Nara Noian "Cristal" (2008), "Arax" "Crossing" (2009), Nara Noian "Kino" (2010) and "Oriental Express" (2011), Hijaz "Chemsi" (2011) and "Blindnote" (2011), Osvaldo Hernandez Napoles "Tierra" (2011), Abdelli "Destiny" (2013).
Emre Gültekin (Turkey) plays sazu, baglama, tambour and sings vocal parts in this duo. He is originated from a famous family of musicians and playing some instrument in this family is as natural as breathing. Emre Gültekin was born in 1980 in Belgium. Music was introduced to him by his father Lütfü Gültekin. His father taught him how to play sazu. Sazu is a long-necked lute that can produce finest harmonies. This instrument is widely known in Middle East – starting whit Siberia. This instrument reached its apogee and greatest artistic expression in Anatolian music. Greatest musicians who played it was Talip Ozkan and Mustafa Karaçeper.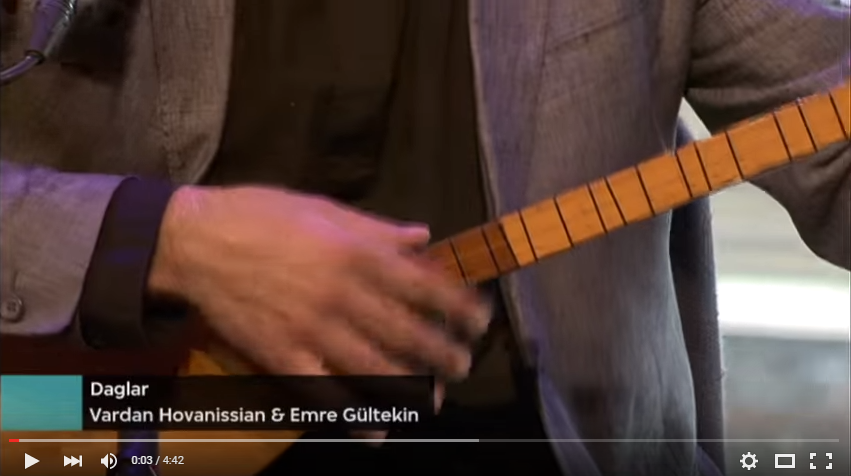 Emre Gültekin is widely known artist. He participates in many musical projects with different profile and specifics: Malick Pathe Show (Senegal), Goran Bregovic (Serbia), Veronique Gillet (Belgium), Dadmehr (Iran) and many more. Emre Gültekin plays with "Blindnote" and in his family band "Gültekinler". He writes music to movies and also he works as sound engineer.
You can hear this composer in Dertli Divani album "Hasbıhâl" (2004), "Gültekinler" records "El Emeği Göz Nuru" (2005), and "Türküce" (2008), "Blindnote" record "Blindnote" (2011), Emre Gültekin, Joris Vanvinckenroye, Wouter Vandenabeele, Ertan Tekin "Chansons pour la fin d'un jour" (2011), Emre & Lütfü Gültekin "L'Exil, refuge du barde" (2013).
Vardan Hovanissian and Emre Gültekin is a duo with high class and honor felt in their music. This duo reconciles two great musical cultures during this sensitive anniversary. The music of this duo is like a bridge between Armenia and Turkey. This music connects these countries with calm, winding, traditional and also original sounds. The high level of artistry can be felt through refined playing, contemplative and nostalgic mood, meaningful lyrics.
TICKETS